Introducing the OPAL Coffee Pod Machines
The first machine purposely designed to brew specialty coffee pods.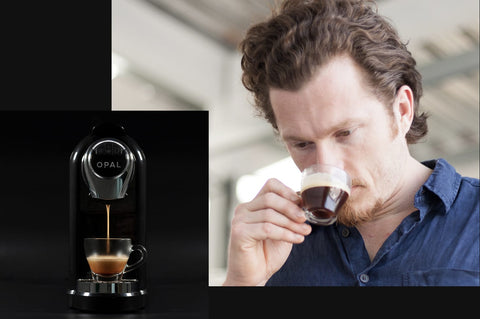 A cross-industry partnership
Made in collaboration with 3x UK Barista Champion and industry thought-leader Maxwell Colonna-Dashwood, OPAL One combines technological know-how with leading coffee-industry expertise, offering the most accessible and convenient way to enjoy high-quality, expertly roasted coffee.
Intelligent flow-rate and a unique silicon brewing chamber mean even extraction. No leaks & no diluted, watery espresso which is a common complaint from most pod-machine users due to their plastic components.

With higher temperature & pressure options than other pod machines, the Opal offers a truer, fuller-bodied brew every time. Opal's fully adjustable temperature & dosing controls mean coffee connoisseurs can get the very best from their coffee.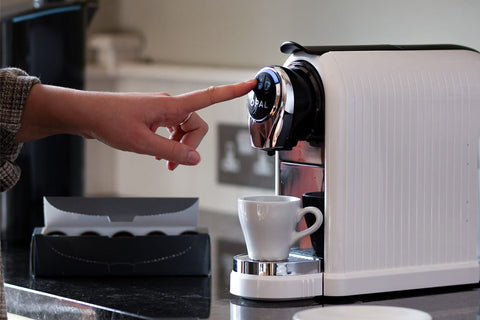 Enjoy premium coffee with exceptional flavour
Most pods and machines rely on low-quality, dark-roasted coffee which gives up its flavours easily at low temperatures and low pressure. The result is often an overly-bitter drink without any of coffee's subtleties. With OPAL One's specialty coffee programming you can enjoy lighter-roasted, coffee with more complex flavour profiles.

What's more, adjustable settings mean that you can make your coffee exactly as you like it. Or follow roasters' recipe recommendations on for different pods, enabling truly customised brews. Enjoy nuanced, aromatic coffee, exactly as the roaster intended.

OPAL One is a new generation of coffee pod machine. It offers coffee lovers a new way to enjoy specialty coffee. Will you join the coffee revolution?
Trusted by the finest brands in hotels, hospitality and coffee.